DAMA Houston strives to be the enterprise data management community of the Houston Metro Area. We are a chapter of DAMA International. We invite you to attend our meetings to experience the high quality educational presentations and excellent networking opportunities. People invariably say they're glad they did!
I truly enjoy DAMA Houston Meetups and training sessions. Very informative and relevant. –-Mike Saw, Rice University
Upcoming Event:
Industry Panel Discussion on Master Data Management
Event Date: November 8, 2023
Time: 4:30PM -6:30PM
Venue: Harmony Public Schools Central Office, El Paso Room, 3rd Floor, 9321 W Sam Houston Pkwy S, Houston, TX 77099
Join us for a high-impact panel discussion featuring thought leaders from banking, manufacturing, and oil and gas. We'll delve into Master Data Management (MDM), key pillars for achieving operational efficiency and compliance. This interactive event will cover the following:
How MDM streamlines data quality, enhances compliance, and drives business agility.
Common roadblocks like data silos, regulatory constraints, and change management.
Effective strategies for data stewardship, governance frameworks, and technology adoption.
Our Panelists:
Jeff Green, Chief Information Officer at Strike, LLC leading technology and digitization strategy and execution. Recognized by Energy Tech Review as top 10 Energy CIOs in 2023.
Sonali Mathur, Global Director at General Motors, responsible for marketing data, privacy, and operations. Finalist of Women Leaders in Data and AI (WLDA) 2023.
Angela Tran, Director of Strategy and Staff Development at BNY Mellon. Prior experiences: AIG and Discover. Recently presented at CDO Summit Houston on analytics-driven culture.
Vivian Chang, Data Architecture & Governance Consultant. Delivered MDM Data Strategy and Architecture design for various companies and industries.
This is a must-attend event for executives and data professionals looking to leverage MDM for strategic advantage. Gain actionable insights and network with industry peers.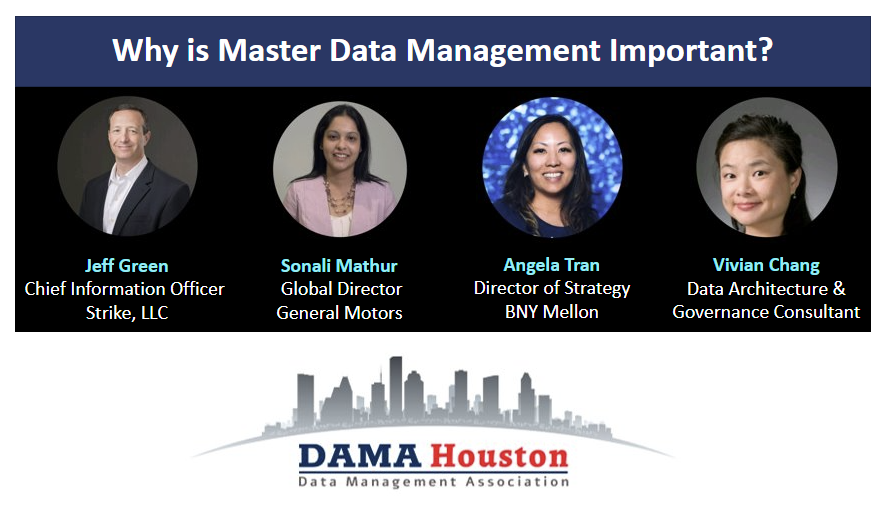 ---
Benefits of Attending Houston DAMA Meetings:
Networking with Data professionals that don't look at you strange when you mention slowly changing dimensions or data lakes.
Informative quarterly meetings with interesting presentations on the latest trends, technologies and services in the Data Management Industry, as well as trusted and true technologies.
Snacks and coffee at each meeting.
End of year networking social after our 4th quarter meeting in November.
We are looking to bring you more value, please give us feedback. Please email us at

[email protected]